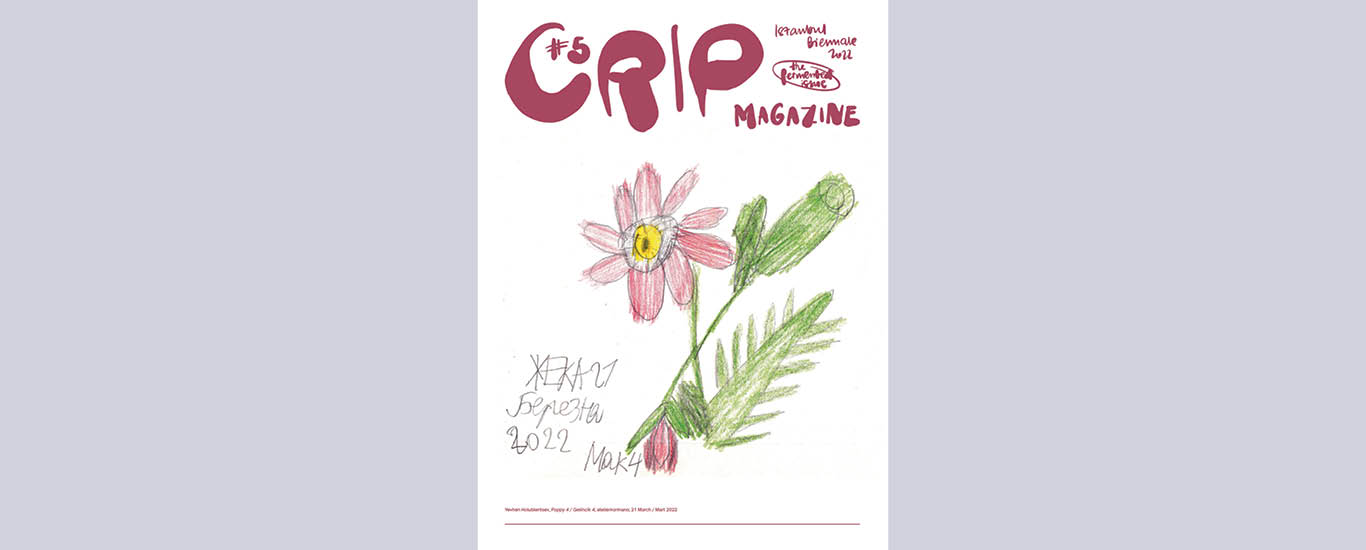 Crip Magazine is a self-published art-zine project by Eva Egermann drawing on the reclamation of the term 'crip' that emerged within disability studies and activism in the 1970s. Released on an irregular basis, the magazine functions as a collaborative platform, gathering artistic and theoretical contributions by artists and diverse cultural producers that challenge binaries such as disability/ability or vulnerability/strength as constructions to shape life.
For Crip Magazine #5, a new issue published on the occasion of the 17th Istanbul Biennial, Egermann connects her research with the work of artists, activists and scholars from Turkey working on and around themes of disability. Along with the printed magazines available at Biennial venues, the edition is available online and extends its reach through co-operation and cross-publishing with fellow Biennial participants and local periodicals, as well as an accompanying magazine launch event. The project aims to expand unconventional approaches to and non-dogmatic discussions of disability in Turkey. The printed edition of the magazine can be accessed from the reading rooms in the biennial venues Barın Han and Küçük Mustafa Paşa Hammam, as well as the P Building of Müze Gazhane and the Istanbul Bookstore in Gazhane.
Crip Magazine #5 contributors:
Accessible Everything, atelienormalno, Elif Aybaş, Dilan Aydemir, Mel Baggs (†), İpek Burçak, Eli Clare, Theresia Degener, Eva Egermann, Çınar Eslek, Kaan Göncü, Lana Grahek, Yevhen Holubientsev, Matthias Julian, Merhaba! Spektrum, Alyson Patsavas, Araya Rasdjarmrearnsook, Lieko Shiga, Jo Spence (†), Pelin Tan, Tuğçe Ulugün Tuna, Sibel Yardımcı
Design by: Lana Grahek
Eva Egermann (b. 1979, Burgenland, Austria) is an artist, writer and researcher based in Vienna, Austria. She works with a range of media and materials, from artist publications to art projects in the form of installations, photography or video. Her artistic and textual practice revisits activist movements, various subcultures across time and reworks the categories and political conditions of ability and non-conforming bodies. In 2012 she initiated Crip Magazine, a self-published magazine project released on an irregular basis that comprises theoretical as well as artistic contributions. Crip Magazine functions as a collective platform and draws from the history of the disability-rights movement and subcultural, queer contexts of disability. Together with the filmmaker Cordula Thym, Egermann is currently working on a docufictional TV-Show format called C-TV. Her recent exhibitions include Bergen Assembly 2019, Bergen, Norway (2019); When the Sick Rule the World, Alte Fabrik, Rapperswill, Switzerland (2020); KISS, Kunsthalle Wien, Vienna, Austria (2020, 2021); If Time is Still Alive, Camera Austria, Graz, Austria (2021) and Actually, the Dead Are Not Dead, Württembergischer Kunstverein, Stuttgart, Germany (2021). In 2021 she organised the Anti Stigma Crip Convention at Belvedere 21, Vienna, Austria.