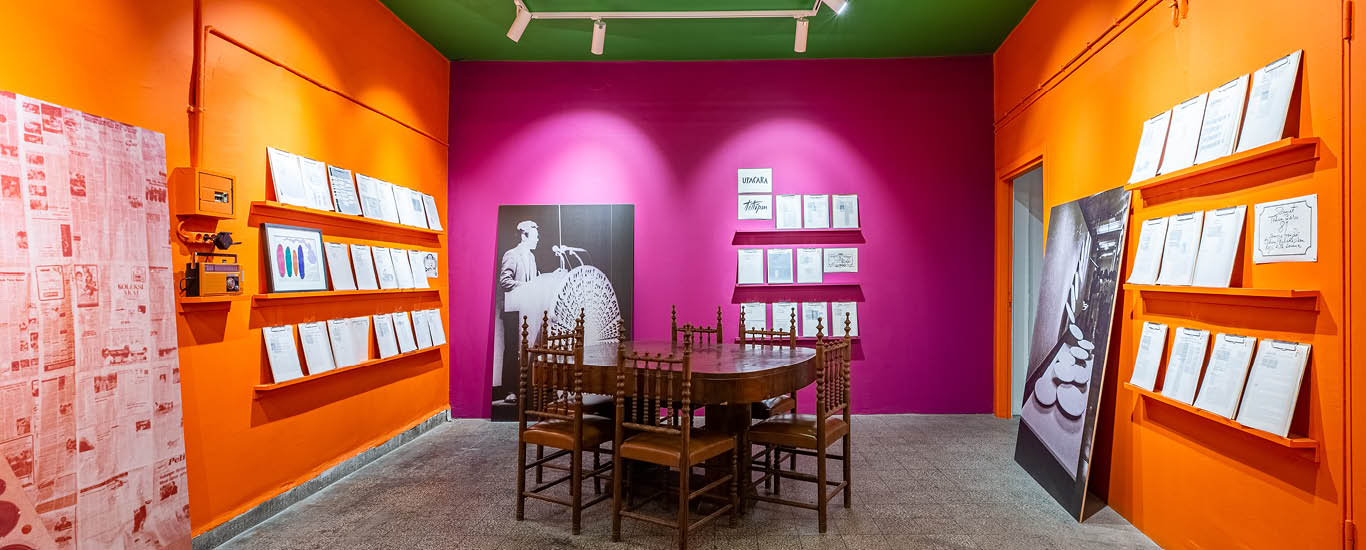 Danarto dkk / Buzdokuz Magazine
Julian Abraham 'Togar' (artist, musician) / Saleh Husein (artist, musician) / Sakdiyah Ma'ruf (stand-up comedian) / Anissa Rahadiningtyas (art historian) / HS Hairus Salim (writer, publisher) / Tamarra (artist) / Hyphen — (research group consisting of Ratna Mufida, Akmalia Rizqita "Chita", Grace Samboh, and Rachel K. Surijata)
Danarto dkk (estd. 2020) is a research project that aims to unfold the different trajectories of the life and work of writer, artist, designer and theatre-maker Danarto (1941–2018). In Indonesia's national language, dkk is an abbreviation that means '… and friends'. Danarto dkk is open to anyone who is interested in joining its already active members, and for now, it is composed of Julian Abraham aka 'Togar' (artist, musician); Saleh Husein (artist, musician); Sakdiyah Ma'ruf (stand-up comedian); Anissa Rahadiningtyas (art historian); HS Hairus Salim (writer, publisher); Tamarra (artist); and Hyphen — (research group consisting of Ratna Mufida, Akmalia Rizqita 'Chita', Grace Samboh and Rachel K. Surijata)
Julian Abraham 'Togar' (b. 1987, Medan, Indonesia) is an artist, musician and pseudo-scientist. Words like 'generative', 'manipulating', 'dematerialization' are often used to describe his work. Connecting one thing to another, expressed through complex algorithms, has enabled him to demonstrate how art, the environment, science and technology relate to one another, and to provide new tools to educate and engage both the artist and society. Currently he is pursuing a two-year residency at the Rijksakademie, Amsterdam, the Netherlands.
Saleh Husein (b. 1982, Jeddah, Saudi Arabia) is an artist and musician based in Jakarta, Indonesia. He studied painting at the Faculty of Visual Arts, Jakarta Arts Insititute. In his works, Saleh stimulates the mind via the historical unravelling of things. His family's history and traces of Arab culture are often the focus of his projects. He is also known as the guitarist in the bands White Shoes & The Couple's Company and The Adams.
Sakdiyah Ma'ruf (b. 1982, Pekalongan, Indonesia) is a comedian, activist, writer and two-time TEDx speaker, celebrated as Indonesia's first Muslim female stand-up comic. Using humour to make sense of her place in a changing Indonesia, she designs and facilitates 'Our Voice' Stand-up Comedy for Change Workshop in collaboration with Aliansi Satu Visi and young people from 10 provinces across Indonesia. She is also the writer and host of the comedy series SABAN SENIN, addressing numerous issues faced by women, creative workers and workers in general during the pandemic. Ma'ruf was awarded the Václav Havel International Prize for Creative Dissent (2015) and recognised among the BBC's 100 Women (2018) and The Cultural Frontline's (BBC) 12 Artists that Changed the World (2019).
Anissa Rahadiningtyas (b. 1986, Jakarta, Indonesia) is an art historian who earned her PhD in Art History at Cornell University for her research on the position and question of Islamic religiosity, rituals and performances in works of modern and contemporary art in Indonesia. She is currently an Assistant Curator of Islamic aesthetics in modern and contemporary Southeast Asia at the National Gallery of Singapore. Her research interests include Indian Ocean studies, postcolonial and decolonial theories, comparative modernisms, gender and feminism, and Islamic studies. She received an MA in Aesthetics and Art Sciences from the Faculty of Art and Design, Bandung Institute of Technology (ITB), Indonesia and she was a 2019 fellow at Cornell Digital Collections in Arts and Sciences and part-time Assistant Curator of Asian Art at the Herbert F. Johnson Museum, New York, USA.
HS Hairus Salim (b. 1969, Tanjung, Indonesia) is a writer, research consultant, the Executive Director of the Yogyakarta-based non-governmental organisation Yayasan LKiS (Lembaga Kajian Islam dan Sosial; Institute of Islamic and Social Sciences Foundation), and the Manager of Gading Publisher and Lumbung Informasi Kebudayaan (LIKE) in Indonesia. Salim primarily writes about religious matters and culture, and is the author of several books, including Tuhan yang Tersembunyi: Renungan dari Balik Aksara (The Hidden God: Meditations from Behind the Letters, Buku Mojok, 2019) and Sang Kosmopolit (The Cosmopolitan, EA Books, 2020). He has also had various articles featured in a number of media, including Mojok.co and IBTimes.id.
Tamarra (b. 1989, Tasikmalaya, Indonesia), is a self-taught artist who is currently studying at Sanata Dharma University, Yogyakarta, Indonesia. Keywords in Tamarra's artistic practice are human relations, history, gender and sexuality, religion and humanity. Tamarra's works have been exhibited and/or performed in, amongst others, Via-via Café, Yogyakarta, Indonesia; Kedai Kebun Forum, Yogyakarta, Indonesia; Taman Ismail Marzuki, Jakarta, Indonesia; Biennale Jogja – Equator Series, Yogyakarta, Indonesia; Jakarta Biennale, Jakarta, Indonesia; Gertrude CAC, Melbourne, Australia; Selasar Sunaryo Art Space, Bandung, Indonesia; Undisclosed Territory, Surakarta, Indonesia.
Hyphen - (estd. 2011) is co-initiated by Ratna Mufida, Pitra Hutomo and Grace Samboh as a sustainable space for the discussion of aesthetic practices. They were joined by Akmalia Rizqita 'Chita' and Rachel K. Surijata in 2020, after the space had expanded through engagement in various artistic activities, including exhibition-making, various forms of publishing, archiving, research, open-ended conversations, karaoke, barbecue nights, feasts, etcetera. Hyphen — aims to encourage curiosity and common wellbeing at the heart of artistic practices.
Ratna Mufida (b. 1979, Kediri, Indonesia) is an arts-management worker living in Yogyakarta, Indonesia. She is one of the co-founders of Hyphen —. Previously, she was heavily involved in a number of art events in Yogyakarta and managed a several art spaces there, such as Kedai Kebun Forum, iCAN, and FFR. Working on the management side of the arts has demanded that she connect to things, and people, from other fields of discipline. This has shaped her curiosity toward the sociological and historical aspect of contemporary art practice in Indonesia, which she pursues by doing research and archival works together with Hyphen —.
Akmalia Rizqita 'Chita' (b. 1996, Jakarta, Indonesia) is an art worker who lives and works in Jakarta, Indonesia. She is particularly fond of organising and taking care of things in her surroundings – whether physical space, research projects or exhibitions. In between her daily routine as the gallery manager of RUBANAH Underground Hub, she is also involved in various research projects with Hyphen —. She was also a member of the curatorial team of Jakarta Biennale 2021: ESOK.
Grace Samboh (b. 1984, Jakarta, Indonesia) is interested in unravelling how social realities, relationships and the past inform various contemporary practices. She cannot stay put, so she works either in Yogyakarta, Jakarta, Jatiwangi or Medan. Due to questioning too many things at once, she does curatorial work as well as groundwork research.
Rachel K. Surijata (b. 1997, Jakarta, Indonesia) recently received her BA in Anthropology and Media from Goldsmiths and has since been living and working in Yogyakarta and Jakarta. She is currently working on various projects with Hyphen ––, including the Danarto research since January 2020. Recently she was on the curatorial team of Jakarta Biennale 2021 ESOK.
VENUE