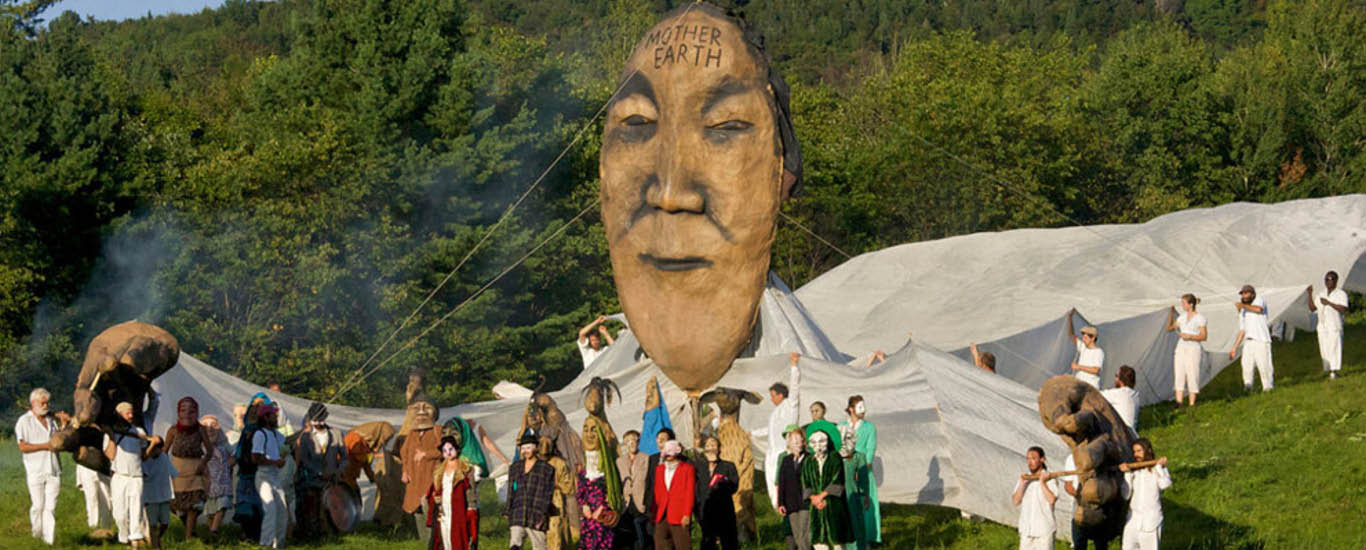 In collaboration with Clare Dolan, John Bell, Adam Cook, Feride Eralp and Istanbul Bilgi University Management of Performing Arts and with contributions by Cengiz Özek.
Founded in 1963 by Peter Schumann on New York City's Lower East Side, the internationally celebrated company Bread and Puppet Theater is known for its spectacular, visually rich and politically charged performances, its grandiose papier mâché and cardboard puppets, and its participation in various political demonstrations such as anti-war protests since the 1960s.
Puppet theatre is 'an art which ... prefers its own secret and demeaning stature in society, representing, more or less, the demons of that society', wrote Peter Schumann. Involving many collaborators, including the leading Turkish Karagöz master Cengiz Özek (with a part of his play Garbage Monster), feminist activist Feride Eralp, Bread & Puppet Theater's participation in the Biennial comprises a workshop at Istanbul Bilgi University, Department of Management of Performing Arts, and a series of parades and performances developed with a diverse group of local participants. Under the theme Demons of Society, the project speaks to the urgencies of the present moment, informed by the company's decades-long commitment to its craft and its potential to inspire social and political change.
Bread and Puppet Theater (estd. 1963, New York City, USA) is an internationally celebrated company based in Vermont, USA, which champions a visually rich, street-theatre brand of performance art filled with music, dance and slapstick. Its shows are political and spectacular, with huge puppets made of papier maché and cardboard. Founded by Peter Schumann on New York City's Lower East Side, the Bread and Puppet Theater is recognised throughout the world and has won distinction at international theatre festivals in Italy, Poland and Yugoslavia. The company's recent shows include Or Else (2018); The Basic Byebye Show (2018); The Honey Let's Go Home Opera (2019) and The Insurrection-Resurrection Service Circus (2020). Notable awards include the Erasmus Prize of Amsterdam (1978), the Vermont Governor's Award (1978), the Puppeteers of America's President Award (1979) and the Obie Lifetime Achievement Award (1984).
VENUE