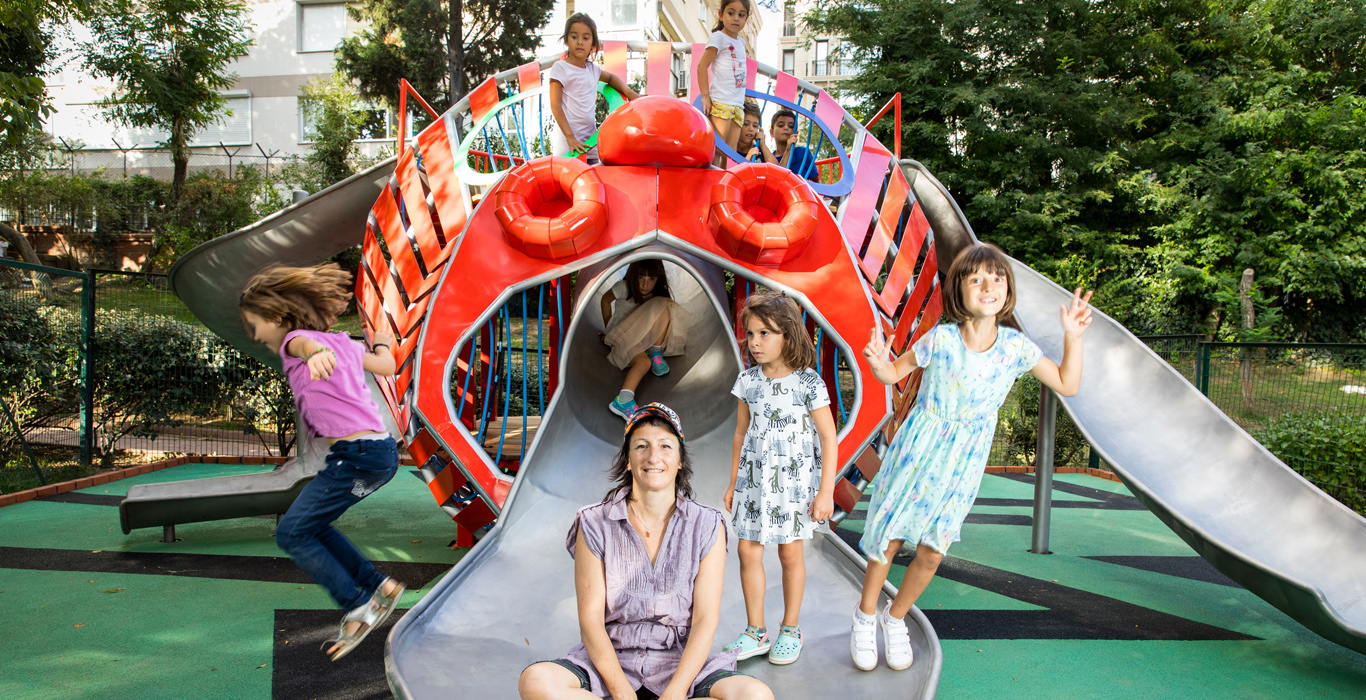 Photo by: David Levene
Organised by the Istanbul Foundation for Culture and Art (İKSV) and sponsored by Koç Holding, the 16th Istanbul Biennial, opening on 14 September, will present the city a permanent work with the support of 2007-2026 Biennial Sponsor Koç Holding. The internationally acclaimed British artist, Monster Chetwynd, has been commissioned to create a permanent new sculptural children's playground as a highlight of the programme of the 16th Istanbul Biennial.
Located in the city's Maçka Sanat Park, one of Istanbul's public green spaces, Monster Chetwynd's Gorgon's Head Playground is inspired by the heads of Medusa that were discovered in the city's 6th-century Basilica Cistern. Monster Chetwynd will be in residence in Istanbul working with local craftspeople on the construction of the playground which displays the distinct features of the mythical creature, including slides that form a head of snakes and also pays tribute to the stray cats of Istanbul and the Gardens of Bomarzo in central Italy. Gorgon's Head Playground, which is still in the process of installation in Istanbul, can be visited in Maçka Sanat Park from 10 September onwards.
Photo by: Poyraz Tütüncü

Alongside this permanent commission, the Biennial will also present a second temporary commission to Chetwynd on Büyükada island, outside an old wooden palazzo that has served the island as the prefecture building since 1929. This series of sculptures display hybrid creatures, in which a snake, a crocodile, a spider and a bat all take humanoid form.
Monster Chetwynd (b. 1973, London, UK) lives and works in Glasgow. Known for her bric-a-brac style performance pieces, featuring handmade costumes, props and sets, Chetwynd describes her work as 'impatiently made', often re-using cheap materials that are easy to process and to use by the many performers she invites to participate, emphasizing the notion of collective development that informs much of the artist's work. In 2012, she was nominated for the Turner Prize. Recent solo exhibitions include De Pont, Tilburg (2019); Villa Arson, Nice (2019); Winter Commission, Tate Britain, London (2018); The Owl with the Laser Eyes, Fondazione Sandretto Re Rebaudengo, Turin (2018); Uptight upright, upside down, Centre for Contemporary Arts, Glasgow (2018); and Camshafts in the Rain, Bonner Kunstverein, Bonn (2016).
This commission will be the second in a series of permanent commissions associated with the Istanbul Biennial. The first was to Ugo Rondinone for his neon-light sculpture Where Do We Go From Here? Originally commissioned for the 6th Istanbul Biennial in 1999, it was installed permanently at the Mustafa Kemal Cultural Centre in the last edition in 2017.