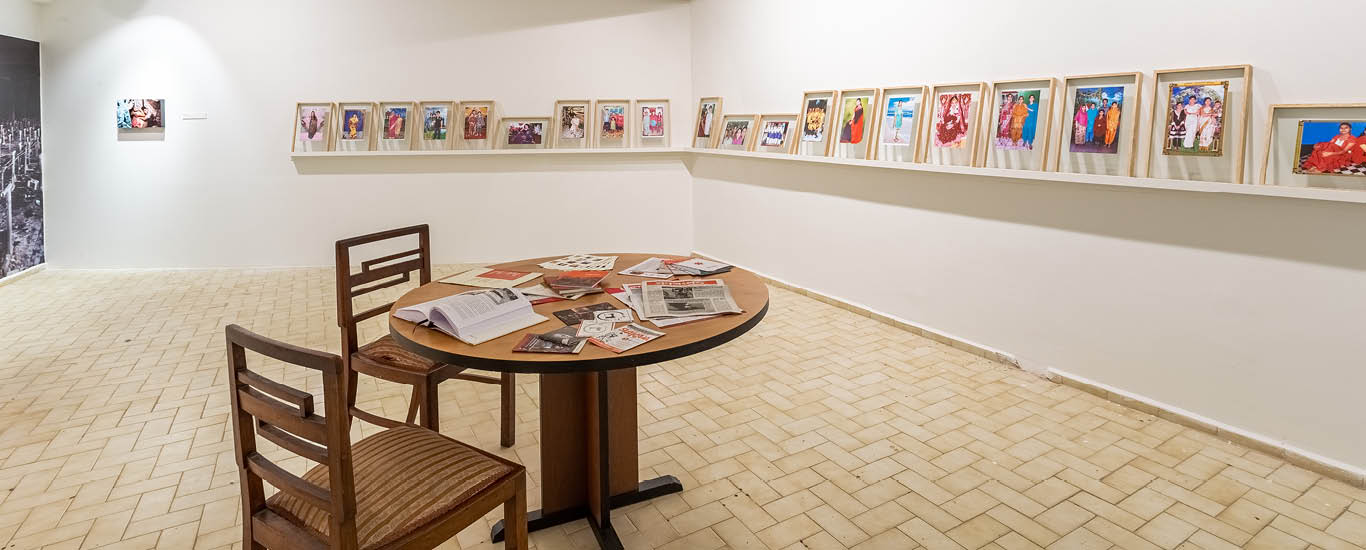 Pathshala South Asian Media Institute (estd. 1998, Dhaka, Bangladesh) is one of the most influential institutions in the South Asian region, offering various short-term and long-term educational programmes on photography, film and multimedia journalism throughout the year. Pathshala allows its students to explore the world of visual storytelling, as well as giving them the knowledge and opportunity to question beyond the confines of discipline, and the scope to think outside the box. The conceptual absence of a classroom enables students at different levels of study, not only to attend the same classes, but also to work on collaborative projects together with visiting faculty, enhancing and complementing each student's learning experience at both theoretical and practical levels.
Shahidul Alam (b. 1955, Dhaka, Bangladesh) is a photographer, writer, curator, and National Geographic Explorer at Large, based in Dhaka, Bangladesh. After obtaining a PhD in chemistry and returning to Dhaka in 1984, Alam switched to photography and began to document the democratic struggle to remove General Ershad. He was arrested in 2018 for criticising his government and spent 107 days in jail, but as a 'Prisoner of Conscience', he was released on bail following a massive international campaign for his release. A lecturer at Harvard University, Stanford University, UCLA, Oxford University and Cambridge University, Alam has received an Honorary Doctorate from the University of Arts London, and is a visiting professor at Sunderland University, RMIT, an Honorary Fellow of the Royal Photographic Society and a former president of the Bangladesh Photographic Society. Alam's work has been exhibited in leading galleries like MoMA, New York, US; Centre Georges Pompidou, Paris, France and Tate Modern, London, UK. He has chaired the international jury of World Press Photo. In 2020, he won the International Press Freedom Award conferred by the Committee to Protect Journalists and in 2021, the inaugural CASE Award for Humanitarian of the Year. He was one of the journalists to be named the Person of the Year by Time Magazine in 2018, and he is the recipient of the Shilpakala Award, the highest national award given to Bangladeshi artists. Alam is currently setting up a centre for investigative journalism in Bangladesh.
Samari Chakma (b. 1975, Khagrachari, Bangladesh) is a lawyer and activist based in Australia. After her Masters in General History at Eden College, she received her LLB law degree from World University of Bangladesh and was certified as a lawyer in 2013. She was the first Chakma female lawyer enrolled to hear cases at the Bangladesh Supreme Court in 2017. Her legal work is focused on providing assistance to rape victims and victims of false accusations due to the ongoing political crisis of the Chittagong Hill Tracts. In 2013, she founded, with comrades, the Comrade Rupak Chakma Memorial Trust, providing scholarships to 16 Pahari students. Chakma was involved in the editing of two Hill Women's Federation (HWF) publications – The Diary of Kalpana Chakma and Paharer Ruddho Kontho. She is an editor at Thotkata and her writing has also been published in New Age, Survivable International and Alal O Dulal. In 2018, she was a Bertha Global Exchange Fellow at the European Center for Constitutional and Human Rights, Berlin. Chakma is currently in forced exile in Australia for her safety.
Naeem Mohaiemen (b. 1969, London, UK) makes films, installations and essays about socialist utopia, unstable borders and fading family units. His essays include'Peace in Our Time?' (Chittagong Hill Tracts 1715–1997) (1997); 'Connecting the Visible Dots: A Post- Accord History'(2010); 'Flying Blind: Waiting for a Real Reckoning on 1971' (2011); 'The Ginger Merchant of History: Standing in the shadow of "Giants"' (2016); 'Muhammad Ali's Bangladesh Passport: Unsteady Dreams of a Muslim International' (2016) and 'Simulation at Wars' End: A "Documentary" in the Field of Evidence Quest' (2016). He is the co-editor of System Error: War is a Force That Gives Us Meaning (Papesse, 2007) and Between Ashes and Hope: Chittagong Hill Tracts in the Blind Spot of Bangladesh Nationalism (Drishtipat, 2010). In Bangladesh, his projects have been exhibited at BRAC University (2004, 2012); Gallery Chitrak (2008); Chobi Mela (2009, 2017, 2019); Longitude Latitude (2011, 2013, 2016); Dhaka Art Centre (2012); Bishaud Bangla (2012); ULAB (2012); Dhaka Art Summit (2014); Abdur Razzaque Foundation (2017) and Bengal Foundation (2020).
Samsul Alam Helal (b. 1982, Dhaka, Bangladesh) is a freelance visual artist based in Dhaka, Bangladesh. He studied at Pathshala South Asian Media Institute. Helal's practice involves photography, video, and installation. He is keen on creating fiction that questions reality, and his aim is to go beyond socio-cultural and political issues to explore identity, dreams, longings. He plays with the psychological realms of these issues to understand the deeper marks they leave. Helal's recent group exhibitions include Colombo Art Biennale, Colombo, Sri Lanka (2016); Runaway Lovers, Kunsthalle Zurich, Zurich, Switzerland (2017); In Your Dreams, UNSW Gallery, Sydney, Australia (2018) and Dhaka Art Summit, Dhaka, Bangladesh (2020).
Reetu Sattar (b. 1981, Dhaka, Bangladesh) is a Dhaka-based performance artist working with performativity, video, text and objects. Her work explores presence and absence, memory, loss, resilience and the ephemerality of existence. She is interested in the similarities, overlaps and clashes of forms in theatre and performance art and the relationship between the body and ego. Sattar plays with the traditional tropes of theatre through the voice, conversations, sound, props, costume and sculptural elements. Her recent exhibitions and performances include Dhaka Art Summit, Dhaka, Bangladesh (2014 and 2018); South Asian Media Academy, Dhaka, Bangladesh (2014); 16th and 17th Asian Art Biennale, Bangladesh (2014 and 2016); Forashgonj Orphanange, Old Dhaka, Bangladesh (2015); National Art Exhibition, Bangladesh Shilpakala Academy, Bangladesh (2015); Britto, Dhaka, Bangladesh (2016); Isn't It Time You Let Me Go?, Bengal Performance Art Week, Dhaka, Bangladesh (2016); Bengal Foundation Visual Arts, Dhaka, Bangladesh (2016); Chobimela ix, International Photography Festival, Bangladesh (2017); Para/Site, Hong Kong (2017); Jim Thompson Art Centre, Bangkok, Thailand (2017); Fierce Festival, Birmingham, UK (2017) and Liverpool Biennial, Liverpool, UK (2018).
Pranabesh Das (b. 1981, Sylhet, Bangladesh) is a photographer based in Dhaka, Bangladesh. Starting his photography career while studying at the Pathshala South Asian Media Institute, he advanced his studies at the Danish School of Media and Journalism (DMJX), Denmark, and he noticed various reformations in the socio-political landscape that intrigued him and prompted him to document the shifts. While working on a project, he takes his time to engage with and research the subject to build up the story. His projects raise questions about human expression, memory, perspective, ownership, democracy and history. His working style is manifested in the projects such as Eclipse, on which he has been working for the last eight years, which focuses on the murders of the bloggers in the country.
Taslima Akhter (b. 1974, Dhaka, Bangladesh) is a photographer and activist based in Dhaka, Bangladesh. Her practice revolves around issues relating to gender, environment, and culture, as well as exploring spaces of social discrimination. She views documentary photography as a continuation of her activism after working intimately with workers' and women's rights organisations. In 2013, her photo Final Embrace was named one of the top ten photos of the year. She won the Best Photography Award from 5th Dali International Photography Exhibition in China.
Thotkata (estd. 2011, Dhaka, Bangladesh) is a collective born out of a commitment to challenging sexism in Bangladeshi digital spheres. Outraged by the aggressive male chauvinism within the Bangla online space, Thotkata aims to include socially differentiated experiences of sexual violence and gender inequality in on- and offline feminist debates. The word thotkata means 'cut lip' in the sense of 'one who is not careful in her speech'. The collective boldly responds to the disturbing development of a sarkari naribad (feminism of the ruling elite) that appropriates feminist causes to serve the agenda of ruling regimes and the way power elites try to justify extra-judicial killing of rapists, or resort to sexual morality to cover-up state crimes. Thotkata started with online activism, but over the years, they have participated in protests and responded to events of state violence and 'industrial accidents'.
Gana Sanghati Andolan (Mass Solidarity Movement) (estd. 2002, Dhaka, Bangladesh) is a political party in Bangladesh calling for the people to build their own political power. For the last two decades, GSA has been trying to build unity between the change-seeking progressive political forces. In 2002, a number of organisations in Bangladesh such as Bangladesh Students Federation, Bangladesh Multipurpose Workers and Hawkers Association, Women's Solidarity, Bangladesh Garment Workers Solidarity, Environment Movement and Bangladesh Peasant-Labour Solidarity started their journey as a national platform. About 14 years later, the Gana Sanghati Andolan made its debut as a political party at its third national delegates' conference. Jonaid Saki was the chief coordinator and Advocate Abdus Salam was the executive coordinator at the conference.
VENUE