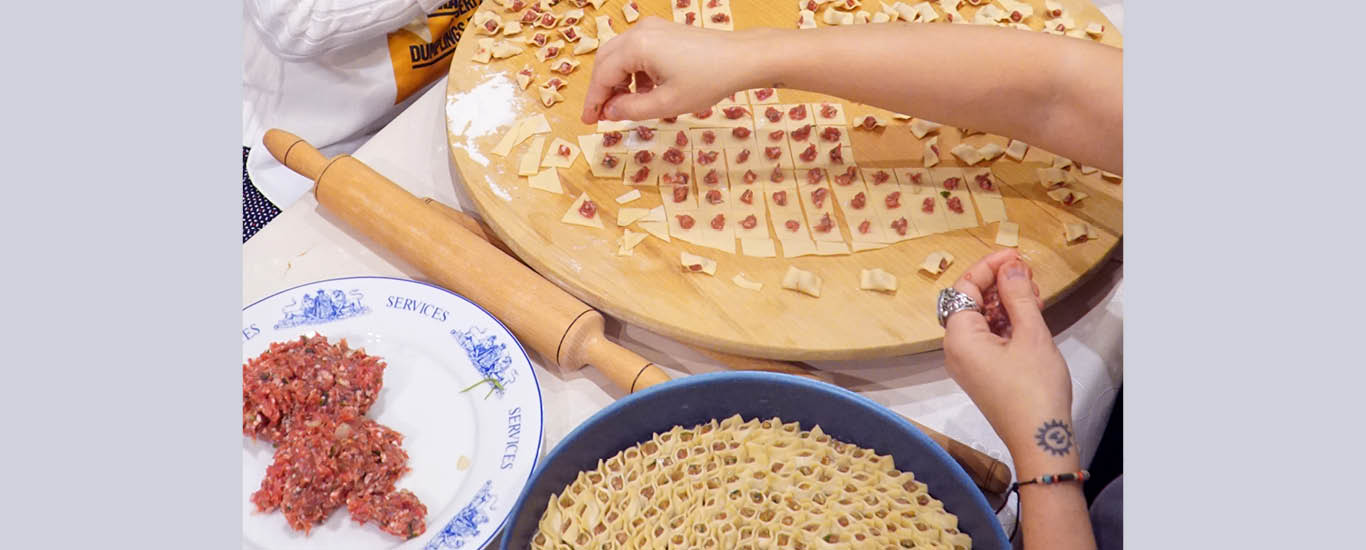 Dumpling Post takes its inspiration from the 'Kayseri Dumpling Festival', organised by Hrant Dink Foundation (HDF) in Istanbul on 26 October 2019 in response to the repeated banning of its conference on the 'Social, Cultural and Economic History of Kayseri and the Region between 1850–1950' by the Governorship of Kayseri and the District Governorship of Şişli. With hundreds of participants, the festival became an alternative forum to celebrate pluralism through dumplings and acted as a space for solidarity against the ban. HDF's reframing yielded a powerful platform for dialogue and creative forms of activism.
Dumpling Post is a publication issued in three monthly instalments online via the website of the 23.5 Hrant Dink Site of Memory, with a printed edition distributed at Biennial exhibition venues Barın Han and Küçük Mustafa Paşa Hammam, as well as the P Building of Müze Gazhane and the Istanbul Bookstore in Gazhane. It features dumpling recipes, stories, essays and opinion pieces, addressing a wide array of social, historical and political phenomena. HDF also hosts a follow-up Dumpling Festival during the Biennial, celebrating cultural diversity and bringing visitors together through the connecting power of food and culinary cultures.
Hrant Dink Foundation and 23.5 Hrant Dink Site of Memory (Neslihan Koyuncu Bali, Nayat Karaköse, Aslı Yolcu)
With contributions by Shahidul Alam, Erdem İlgi Akter, Levon Bağış, Ulaş Bayraktar, Gaye Boralıoğlu, Elvan Uysal Bottoni, Fethiye Çetin, Civan Er, Yıldız Horata, Sevilay Refika Kadıoğlu, Banu Karaca, Karin Karakaşlı, KAMER Foundation, İhsan Karayazı, Ercan Kesal, İoanna Kuçuradi, Kırkayak Kültür, Piyale Madra, Quin Minassian, Ceren Oykut, Yasemin Özcan, Sibil Çekmen, Silva Özyerli, Sibel Cuniman Pinto, Özge Samancı, Meri Çevik Simyonidis, Ohannes Şaşkal, Güneş Terkol, Takuhi Tovmasyan, Aylin Yazıcıoğlu, Serra Yılmaz, TUNCA, Zafer Yenal.
Hrant Dink Foundation (HDF) (estd. 2007, Istanbul, Turkey) was established after the assassination of Armenian Journalist Hrant Dink in front of the Agos newspaper office on 19 January 2007, in order to avoid similar pains and continue his legacy, his language and his dreams. The Foundation works for a Turkey and a world where freedom of expression is limitless and all differences are allowed, lived, appreciated, multiplied, and where conscience governs the way we look at today and the past. HDF defines the development of a culture of dialogue, empathy and peace as the basis of all its activities. In this light, it carries out various activities under three main divisions: Asulis Discourse Dialogue and Democracy Laboratory; Bolis Institute and 23.5 Hrant Dink Site of Memory. Under the Turkey-Armenia Relations Program it contributes to the efforts of building dialogue between the two neighbouring countries. HDF runs various projects and programmes dedicated to protecting human rights and minority rights in Turkey; promoting equality; writing histories devoid of nationalism, dealing with the past; promoting multi-cultural heritage, documenting and raising awareness of hate speech; tackling discrimination, and contributing to the normalisation of Armenia-Turkey relations. Each year on Dink's birthday, 15 September, the Foundation presents the International Hrant Dink Award to acknowledge and honour the courageous efforts of individuals and organisations who are working for a world free from discrimination, racism and violence, who take personal risks for achieving those ideals and use the language of peace. Hrant Dink Foundation was awarded the Chirac Prize for Conflict Prevention by the Chirac Foundation in 2017.
23.5 Hrant Dink Site of Memory (estd. 2019, Istanbul, Turkey) is located in the former office of Agos newspaper, where thousands gather every year on the day of Hrant Dink's assassination to commemorate him and to demand justice. 23.5 opened its doors to visitors on 23–24 April 2019 as the 23.5 Hrant Dink Site of Memory. The site takes its name from his article '23.5 April', which was published in Agos on 23 April 1996. The site acts as a pendulum between pain and hope, a pledge between the past and future and an invitation to make a paradigm shift. The memory site, while shedding light on Dink's life, his struggle, the days leading to his death, as well as the story of Agos and Armenians in Turkey, offers a look into the recent history of Turkey. 23.5 promotes the universal values embraced by Dink, such as democracy, co-existence, equality, truth, peace and justice. With its exhibits, archives and public programmes, in addition to permanent exhibits in different sections of the venue, including Sarkis' installation Salt and Light (2019) and the installation Establishing an Embassy Project (2016) by artist duo Horst Hoheizel and Andreaz Knitz, 23.5 acts as a space for remembrance, reflection, dialogue, activism, learning and mutual understanding.