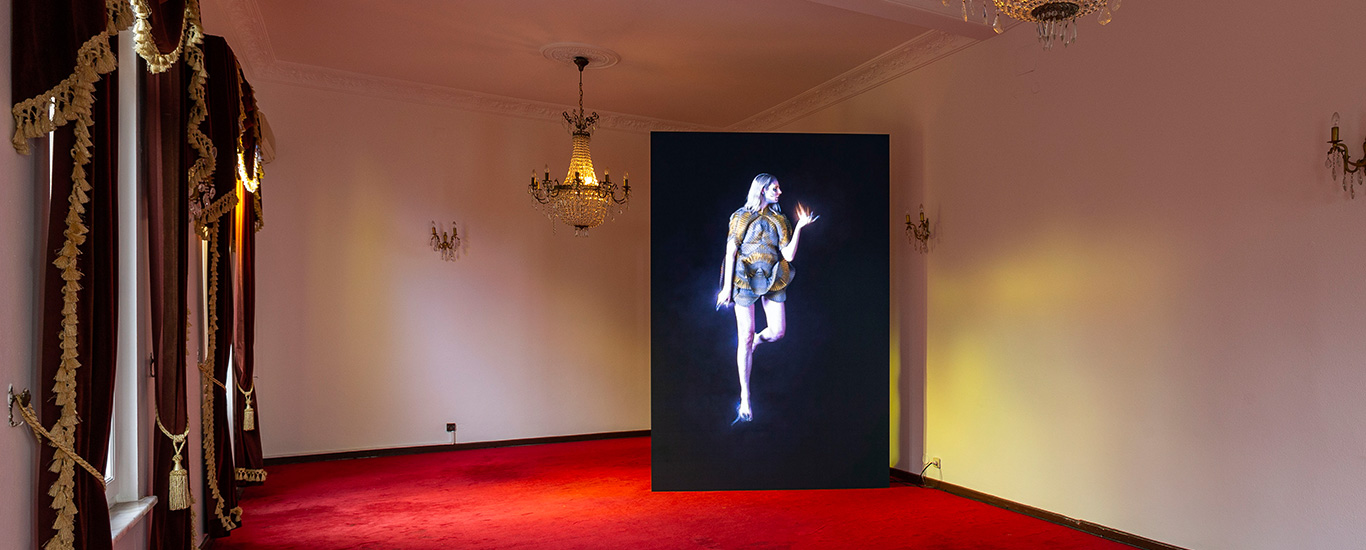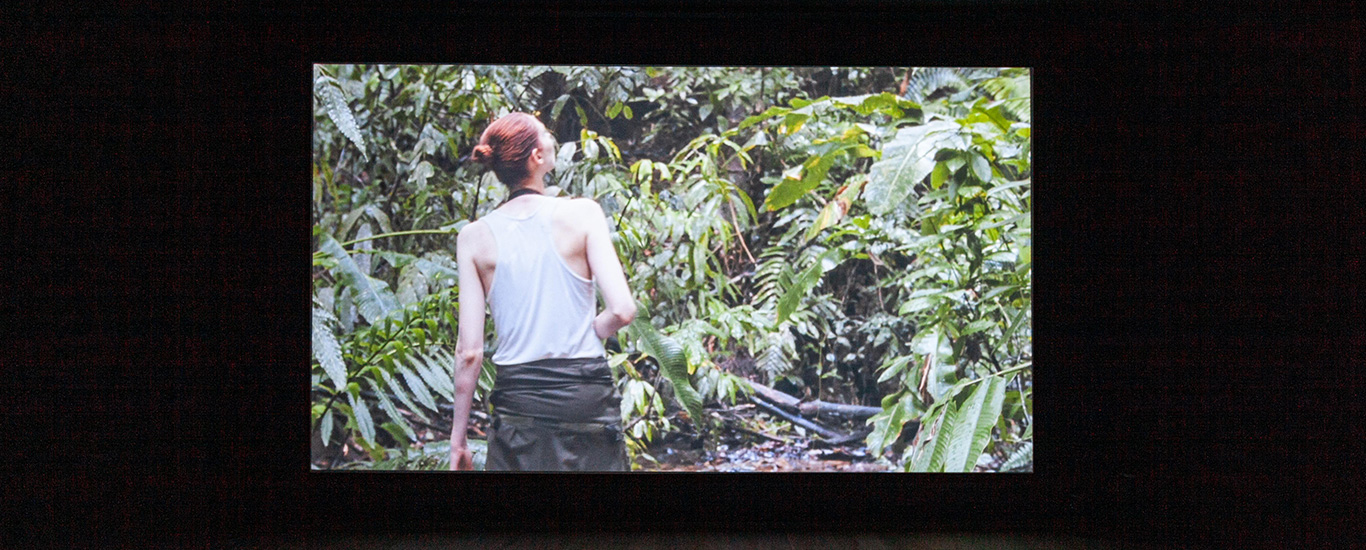 The film Atom Spirit is a speculative narrative set in a near future of increasing biomedical innovation. The film, set in and made with the LGBT community in Trinidad & Tobago, follows the work of a group of evolutionary geneticists studying and collecting DNA from all forms of life in order to create a cryogenically frozen Ark. The video presents a cyborgian future of techno- science in which the residual resonances of extinct civilisations is still felt. Through blending science and mythology Atom Spirit ruminates upon the effects of computational and biological technologies on future iterations of humanity and the environment.
Ursula Mayer's installation The Fire of Knowledge Burns All Karma to Ashes is an HD video loop depicting a digital, idling avatar of a real-life figure: the trans model Valentijn de Hingh. In video games, characters often fall into scripted, repetitive, idle activities – such as breathing or foot stamping – when they are not directed by a player. In Mayer's video Valentijn de Hingh is seen performing various scripted acts. For Mayer, the work is an updating of Donna Haraway's Cyborg Manifesto, presenting an avatar and icon for the post-human, while pointing to a future fusion of nature and culture.
Ursula Mayer's (b. 1970, Ried im Innkreis, Austria) practice spans a range of media, including film, video and sculpture. Her films are crystalline circuits of images, composed of signs borrowed from architecture, fashion, literature, politics, mythology, geology and science. Through her poetic treatment of film Mayer interweaves myth, biopolitics and the semiotics of cinema to visualise and ruminate upon future posthuman ontology. Her solo exhibitions include Atom Spirit, Salzburger Kunstverein (2017); To What I Might Become, Moderna Museet Malmoe, Sweden (2015); But We Loved Her, 21er Haus, Vienna (2013). Recently her works have been included in Be Fragile! Be Brave!, Center for Contemporary Arts, Estonia (2017); SeMA Biennale, Mediacity Seoul, South Korea (2016); and The New Human, Moderna Musseet, Stockholm (2016). Mayer is the 2014 recipient of the prestigious Derek Jarman Award for experimental film and the Otto Mauer Prize in 2007.
EXHIBITED WORKS
ATOM SPIRIT, 2017
16 mm on HD transfer 17'34''
Courtesy the artist and LUX, London.
Produced with the support of Austrian Federal Chancellery, Arts Council England and The Elephant Trust.
The Fire Of Knowledge Burns to Ashes All Karma, 2019
HD loop on LED screen
200 × 300 cm
Courtesy the artist.
Commissioned by the 16th Istanbul Biennial.
Produced with the support of Phileas – A Fund for Contemporary Art and Federal Chancellery of Austria.
Presented with the support of Austrian Cultural Forum Istanbul.