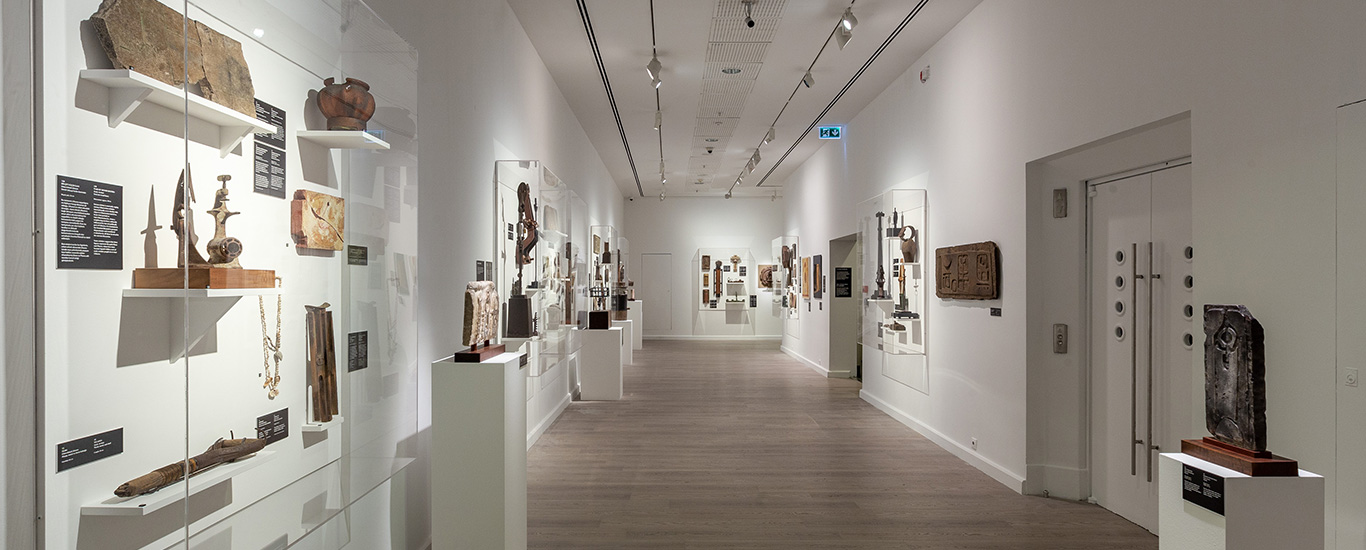 Norman Daly spent decades creating The Civilization of Llhuros. His project began in the early and mid-1960s as he turned from painting to three dimensions (assemblages and marble reliefs). Daly moved on in the late-1960s to the concept and production of a newly discovered ancient civilization. The work was first exhibited in 1972-1974 in the USA and Germany. Llhuros was premised on the use of mixed media. It depended on the integration of its central visual element — a multitude of artifacts — with poetry, music and scholarly commentaries. Daly's unique creation is very much both its own world and an allegory for our world's aspirations, obsessions, and potential for decline and dissolution.
Norman Daly (b. 1911, Pittburgh; d. 2008, New York) received his fine art training in the United States and France. Daly taught painting and drawing in the Department of Art at Cornell for 57 years (1943-1999), 24 of them as an emeritus professor. His career as a painter, with regular exhibits in New York, and acquisitions of his work by museums, flourished in the 1940s and 1950s. In the 1960s he turned to sculpture, concentrating on assemblages and carved marble bas-reliefs. This work led to his conception of a complex 'imaginary' civilization, the manifold productions of which constituted ultimately a multi-media installation. The Civilization of Llhuros was a monumental creation and the first and still pre-eminent presentation of archaeological art. This work was exhibited widely in the United States and Germany in 1972-1975, and was sampled for a small-scale review exhibition at the Herbert F. Johnson Museum of Art, Cornell University, in 2004. It was also part of the exhibition Pluriverse at La Panacée, Montpellier (2017-2018).
EXHIBITED WORKS
Civilization of Llhuros, 1972
Mixed media (artifacts, sounds, texts)
Dimensions variable
Courtesy David Daly.
VENUE