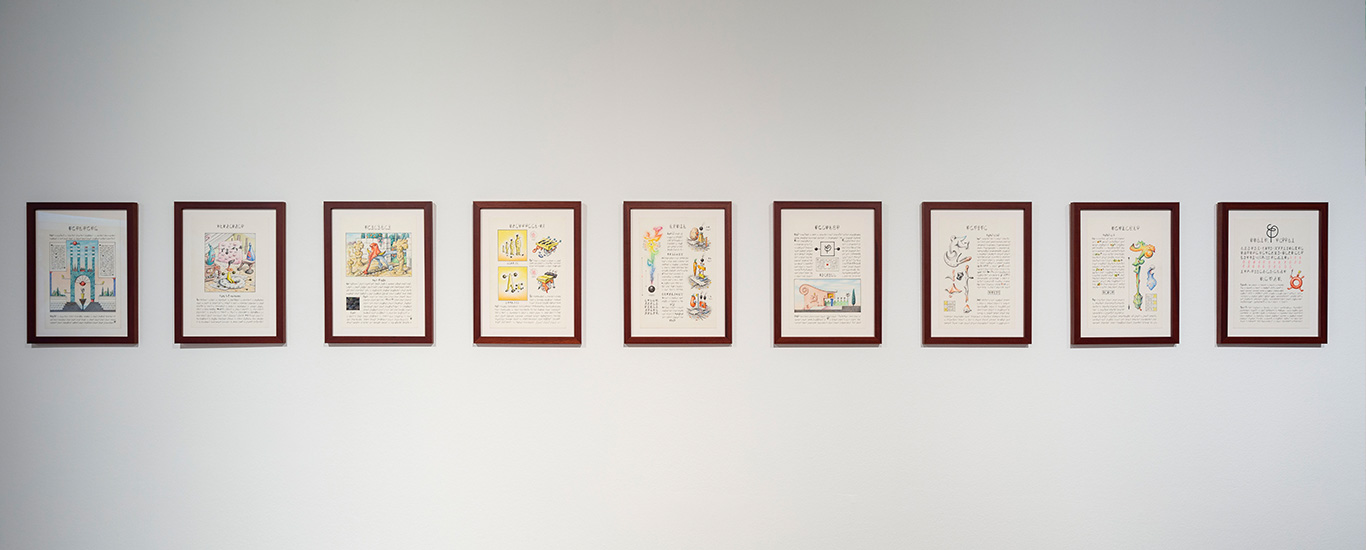 Medieval bestiaries were books that blended imaginary beasts with scientific fauna. Inspired by such works, Luigi Serafini's Codex Seraphinianus is an illustrated encyclopaedia of an imagined universe. The hybrid text-image volume depicts machines, anatomical details, mythologies, food, dress, flora, fauna and other concepts initiated by Serafini in the late 1970s. The work, reminiscent of a naturalist's book, an atlas, or a travel guide to an unknown universe, and contains fantastical depictions, – is written in an unknown language in an asemic script, and composed in a state of automatic writing. Nine works from the Codex Seraphinianus (2013) give a sense of the capacious human imagination.
Luigi Serafini (b. 1949, Rome, Italy) has worked as an architect, ceramist, glazier, painter, sculptor, designer, set designer and writer. He is mostly known for his acclaimed book, which has reached today its eleventh edition, Codex Seraphinianus (1981), an illustrated encyclopaedia of an imaginary world described with a constructed writing. He also published Pulcinellopaedia (1984) and Storie Naturali (2009). He was part of the Memphis Group (1981) in Milan. He helped Federico Fellini in his last movie La Voce della Luna (1988). He designed scenes and costumes for Teatro alla Scala and Piccolo Teatro. In 2003 he made a big installation at the Naples' subway. He has been a visiting artist at the Banff Centre, Canada, and at McLuhan Institute of Toronto. He has exhibited at Palazzo Grassi, Venice (1981); Hayden Gallery, MIT, Cambridge (1983); Mudima Foundation, Milan (1998); XII Quadriennale of Rome (1999); Galleria Nazionale d'Arte Moderna, Rome (2001); Padiglione d'Arte Contemporanea, Milan (2007); Val Bregalia, Switzzerland (2007) and the 54th Venice Biennale (2011).
EXHIBITED WORKS
Codex Seraphinianus, 2013
Page n.1, n.2, n.3, n.4, n.5, n.6, n.7, n.8, n.9
Coloured pencil and ink on paper
31.8 × 22 cm
Courtesy the artist.
VENUE