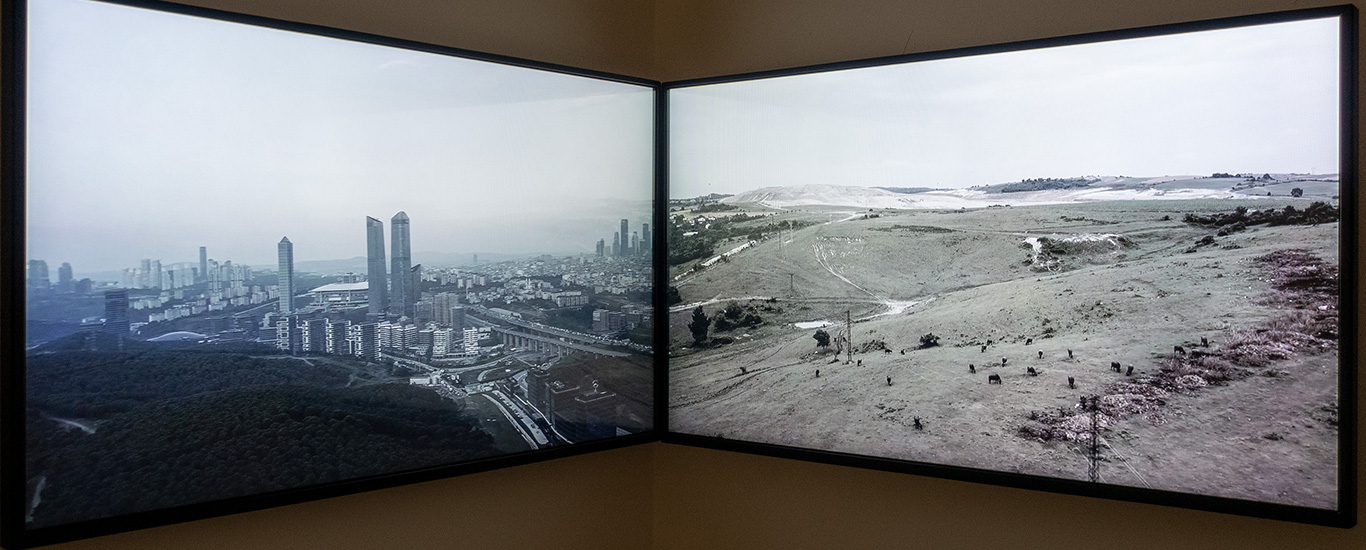 Ozan Atalan's work looks at the cost of human activities of expansion, and responds speculatively to boundless civilisation growth and the eradication of nature. The installation Monochrome takes its point of departure from the destruction of water buffalo habitat in Istanbul. Construction of a new Istanbul airport, a third bridge across the Bosphorus and the urban intervention to northern forests have displaced this species endemic to the region. In Atalan's installation, a documentary video shows the water buffaloes' native homes and the building frenzy leading to their destruction. In the same room, the sculptural component shows a real water buffalo skeleton, on a concrete platform with soil on it.
Ozan Atalan (b. 1985, Gelibolu, Turkey) lives in İzmir and Istanbul. His multimedia installations create alternative fields of perception in order to question human's relationship with itself and the world by taking alienation as base for such relationship. He focuses on presenting speculative experiences in which the physical and the digital co-exist, that are realistic enough not to disconnect from reality, but far enough from reality in order to be able to criticize it. AnthropoScene, State University of New York, Cortland (2016); The Dark Sides, The Michael Sickler Gallery, Syracuse University Shaffer Art Building, Syracuse, (2014); Chosen Reality K2 Contemporary Art Center, İzmir (2013) are among his recent solo exhibitions. Atalan's works have also been exhibited in international venues such as the 5th International Moscow Biennale for Young Art, Moscow (2016); PØST, Los Angeles (2016); Rogue Space Chelsea, New York (2016).
EXHIBITED WORKS
Monochrome, 2019
Installation (concrete, soil, video, water buffalo skeleton)
3 × 3 × 1 m
Video: 10'
Courtesy the artist. Commissioned by the 16th Istanbul Biennial.
Co-produced by the 16th Istanbul Biennial and MO.CO. Montpellier Contemporain with the support of SAHA–Supporting Contemporary Art from Turkey.
Thanks to
Istanbul Buffalo Breeders Association
Istanbul University Cerrahpaşa Veterinary Faculty
Northern Forests Defense
Yaşar University Faculty of Art and Design
Attila Yakınol
Adnan Zorzoban
Bulut Şahin
Ermiş Özkan
Erdinç Savaş