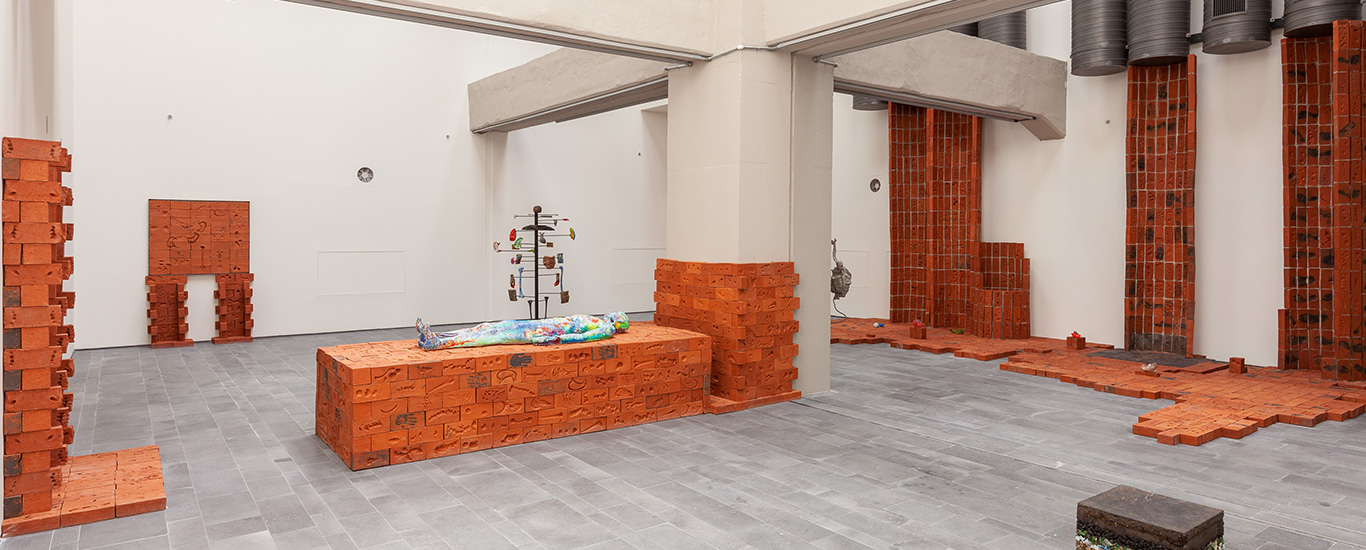 Danz's installation comprises 2,455 bricks – replicas of those found in the Haliç shipyards in Istanbul – each one imprinted with images using models of human organs and the body itself. The bricks form a glyph-like system based on the body's fossilisation into architectural structures, emphasising the role of human labour in our environment. Other elements within the installation include multiple figurative sculptures embodying processes of formation, as well as an oversized measuring device referencing ancient observatories and cartographic tools. The works draw on vestigial knowledge systems in order to build a projective understanding of the human form and its future.
Mariechen Danz (b. 1980, Dublin, Ireland) lives and works in Berlin, Germany. In her sculptures, installations and performances, Danz calls into question the expressive capabilities and incapabilities of language, the legibility and hierarchy of signs, and the primacy of Western conceptions of reason. The human body functions as the primary place of investigation for Danz's work – the body as metaphor, as origin and remains. Group exhibitions include Haus der Kunst, Munich (2018); Venice Biennale (2017) and Centre Pompidou, Paris (2016). Solo shows include Wentrup, Berlin (2018); Centre d'art Neuchâtel (2014) and GAK Gesellschaft für Aktuelle Kunst, Bremen (2012).
EXHIBITED WORKS
Body Bricks, 2019
2455 individually imprinted clay bricks (replica of original brick from the historical shipyards, Golden Horn)
In cooperation with Işıklar Tuğla, Bartın
21.5 × 6.5 × 10.2 cm (each)
Womb Tomb: Imprint Pressures (bog body/map spill/fm), 2019
Ceramic, glaze 180 × 60 × 25 cm
Fossilising Organs, 2016/2018
Semi-precious stones, pigments, resin Dimensions variable
Dig of No Body (Organ*isation), 2019
Aluminium, crystal, cement, copper, coal, grass seeds, horn, iron, resin, pigment, plastic trash, sand, soil, steel
60 × 50 × 185 cm
Learning Cube (soil sample), 2011
Cement, coal, hay, horn, wood chips, pebbles, glass & paper trash, sand, styrofoam, soil, resin
42 × 42 × 42 cm (each)
Possible Paths (fossil), 2017
Semi-precious stones, resin
21 × 8 × 3 cm (each)
Sextant frame (astronomical body), 2019
Steel, oxidised steel
250 × 2 × 250 cm
Courtesy the artist and Wentrup Gallery.
Produced with the support of Wentrup Gallery, Berlin.
Presented with the support of Culture Ireland and Institut für Auslandsbeziehungen.
Thanks to
Işıklar Yapı Ürünleri Bartın
Funda Algın
Talat Emre Çalık
Onur Kaya
Erkul Üstündağ
Sinem Ören
Nisan Yıldırım
Eylül Çekiç
Oktay Hezer
Celal Hezer
Magdalena Mitterhofer
Marcia Neuner
Chloé Viton
Andrea Huyoff
David Zink Yi
Sculpture Berlin & Wentrup Gallery Berlin