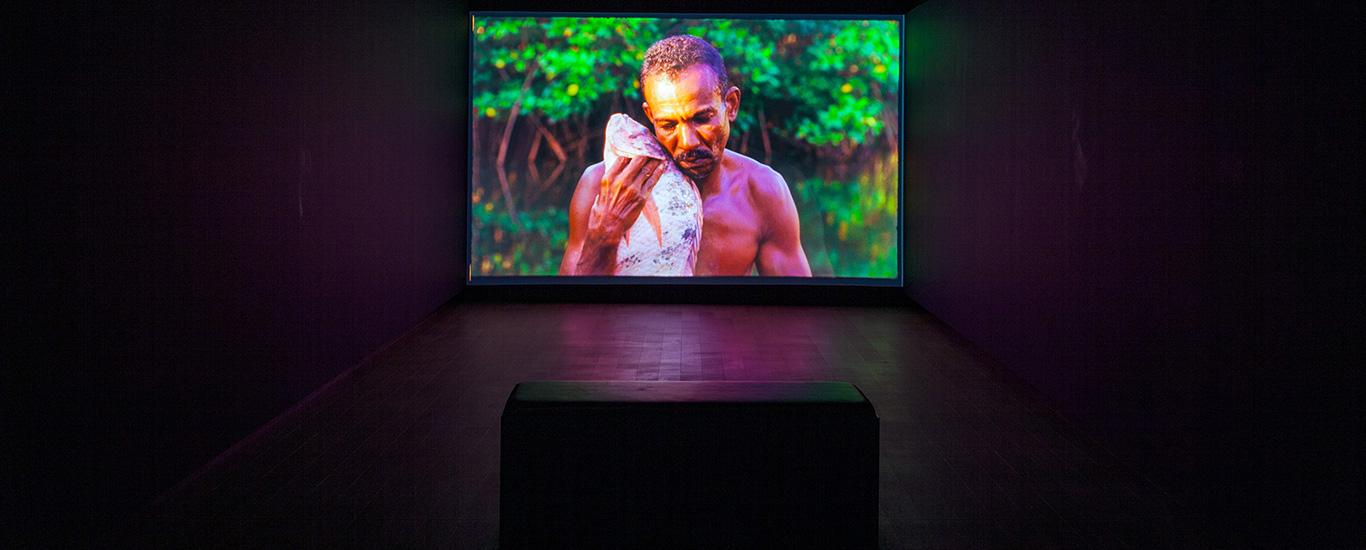 Borrowing from storytelling, folklore, ethnography and anthropology, Jonathas de Andrade explores issues surrounding the colonial legacies of Latin America, its current brutalities and what the artist calls its 'urgencies and discomforts'. O Peixe (The Fish) was made with a group of fishermen from Piaçabuçu and Coruripe in Brazil. We see them engaging in a ritual involving catching the fish, then tenderly holding their prey to their chests until they stop breathing. Commenting on human and natural relations, and an entanglement between expressions of care and suffocation, De Andrade also nods to exclusionary systems of narration and documentation that are imbricated in colonialist and ethnographic enterprises.
Jonathas de Andrade (b. 1982, Maceió, Brazil) lives and works in Recife. He uses photography, installation and video to traverse collective memory and history, making use of strategies that shuffle fiction and reality. Jonathas collects and catalogues architecture, images, texts, life stories and recomposes a personal narrative of the past. Past solo museum exhibitions include ​Museu de Arte de ​São Paulo (2016-17); ​The Power Plant, Toronto (2017); New Museum, New York (2017); and MCA Chicago (2019). Group exhibitions include 32nd Bienal de São Paulo (2016); Unfinished Conversations: New Work from the Collection, The Museum of Modern Art, New York (2017); and Padiglione d'Arte Contemporanea, Milan (2018).
EXHIBITED WORKS
O Peixe (The Fish), 2016
16mm (2K), Sound 5.1, 16:9 (1.77)
37'
Courtesy the artist, Galeria Vermelho, Galleria Continua and Alexander & Bonin.
Presented with the support of Consulate General of Brazil in Istanbul.
Fishermen
Carlos Dos Santos (Menezes)
Cícero Dos Santos (Ciço)
Cipriano Batista Alves (Cipriano)
Genivaldo Santos De Lima (Irmão)
Gileno Cândido Bezerra (Leno)
José Ailton Almeida De Liza (Xau)
José Dalmo Dos Santos (Curió)
José Elenildo Oliveira Dos Santos (Keno)
Romerig Francisco Dos Santos (Rom)
Ronaldo Vieira Santos (Ronaldo)
Fish
Pirarucu Tambuacu Tilápia
CREW
Director
Jonathas de Andrade
Assistant Director
Jeronimo Lemos
Produced by
Rachel Daisy Ellis
Co-produced by
Jennifer Lange
Production Manager
Vanessa Barbosa
Cinematography
Pedro Urano
Assistant Photographer
Leandro Gomes Camila Freitas
Editing
Tita Ricardo Pretti
Sound Design
Mauricio d'Orey
Sound Mixing
Paul Hill
Color Grade
Mike Olenick
Post-Production
Film/Video Studio Program, Wexner Center for the Arts
Fish Farms
Fernando (Coruripe)
Galindo (Piaçabuçu)
Wellinton (Coruripe)
Drivers (boats)
Carlos Roberto Bento E
Silva Chico Pescador
Ronaldo Vieira Dos Santos
Driver (van)
Marcinho
Set Assistants
Gileno Cândido Bezerra (Leno)
José Américo dos Santos (Zé)
José Caetano Santos (Juquinha)
José Nelson dos Santos (Neo)
Manuel Jacinto de Oliveira (Mãozinha)
Production
Desvia Wexner Center for the Arts
Supported by Funcultura Governo do Estado de Pernambuco