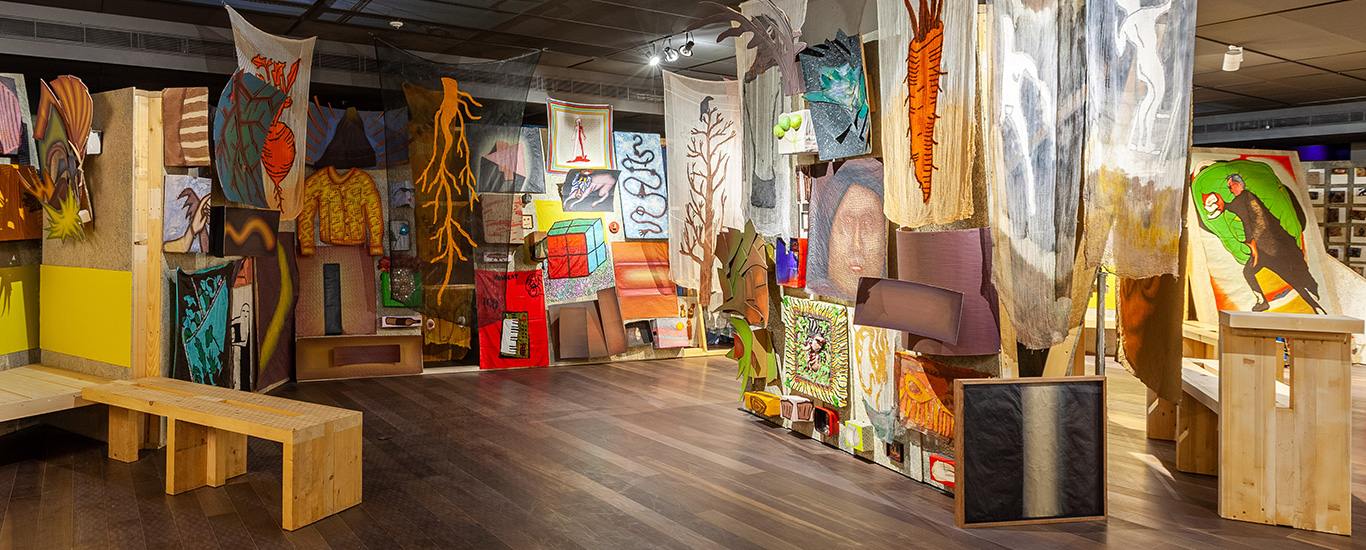 Güneş Terkol and Güçlü Öztekin are founding members of the HaZaVuZu collective in Istanbul, who work across music, video, performance and design. Terkol is an artist who produces sewn works, videos, sketches and musical compositions in order to – often humorously – consider gender relations. Öztekin makes large-scale drawings and paintings on paper, that he describes as a form of 'recycling'. For the biennial Terkol and Öztekin built a space that is a meeting point for visitors and artists in the show. The space contains paintings, tulles, curtains, sculptures, masks and costumes. The result is a convivial place for viewers to mingle, while reflecting the production of two artists and their shared or divergent visions.
Güçlü Öztekin (b. 1978, Eskişehir, Turkey) lives and works in Istanbul. Öztekin is known for his large-scale works created with materials such as styrofoam and craft paper. He uses materials that are within his reach as an act of recycling. Öztekin is a member of Ha Za Vu Zu, an artist collective founded in 2005 and also plays for the avangarde music group GuGuOu. His most recent solo exhibitions are Topsy-Turvy! Selpakla Gorili Bitirdim, Dirimart, İstanbul (2017); Şe Şe Pa Pa... Sometimes You Need to Cry to Fish, Rampa, Istanbul (2015); Everything's Tickling Each Other, Krinzinger Projekte, Vienna (2012). Together with Ha Za Vu Zu, he took part in various group exhibitions, during which he enacted performances and showed his works, including 10th Lyon Biennial (2009); Bovisa Triennial, Milan (2008); 10th Istanbul Biennial (2007).
Güneş Terkol (b. 1981, Ankara, Turkey) lives and works in Istanbul. Terkol takes inspiration from her immediate surroundings, collects materials and stories which she weaves into her sewing pieces, videos, sketches, and musical compositions. She is also a member of Ha Za Vu Zu artist collective and GuGuOu music group. Recent solo exhibitions include She wasn't there and she couldn't believe her ears, Galeri Nev Ankara (2019), Home is my Heart, Krank Art Gallery, Istanbul (2017), The Holographic Record, NON Gallery, Istanbul (2014), Dreams on the River, Organhause, Chongqing, China (2011). Selected group exhibitions include The Mahalla Festival, Malta (2018); Art Night, London, (2017); Flâneuses, French Institute, Istanbul (2017); Interceza Viva, 32nd Bienal de São Paulo (2016); Passion, Joy, Fury, MAXXI, Roma (2016); 10th Gwangju Biennale, South Korea (2014); Better Homes, Sculpture Center, New York (2013).
EXHIBITED WORKS
WORLBMON, 2019
Temporary construction, installation, wood, mixed media, drawings, sculptures, sewing on fabric, boxes.
Dimensions variable
Architectural project: SO? Mimarlık
Indoor installation and application: Onur Ceritoğlu, Ozan Eras, Emre Akçora, Işıl Şipal
Courtesy the artists.
Commissioned by the 16th Istanbul Biennial.
Produced with the support of SPOT Projects, Huma Kabakcı and SAHA– Supporting Contemporary Art from Turkey.