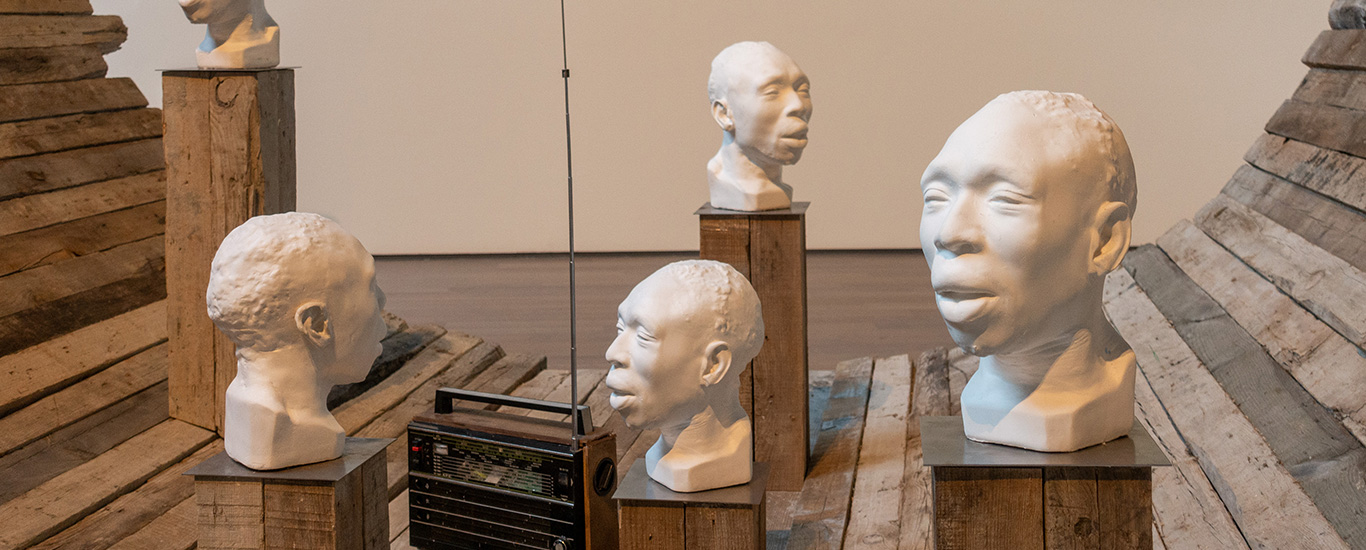 Influenced by his African heritage, Radcliffe Bailey reflects in many of his works on the history of bondage and slavery, contemporary diasporic relations, and themes of displacement and trauma. His contribution is a wooden boat that refers to the ships on which enslaved Africans were transported to the West by Europeans. The ship includes seven black figures on low pedestals. The piece also features three audio installations: one is a song by the Afro-Futurist Sun Ra Arkestra. The second is comprised of the voices of workers building boats in Bay of Soumbedioune, Senegal and the sound of ocean waves lapping the shore. Finally the third one is a sample of different sounds co-composed by jazz musician Tarus Mateen and the artist.
Radcliffe Bailey (b. 1968, New Jersey, USA) lives and works in Georgia. He incorporates found objects and photographs into textured compositions that address race, ancestry, migration, and collective memory, linking diasporic histories with potential futures. Solo exhibitions include Travelogue, Jack Shainman Gallery, The School, New York (2018); Radcliffe Bailey: Recent Works, Contemporary Arts Center, New Orleans (2015); and Memory as Medicine, High Museum of Art, Atlanta (2011-12). Bailey's work is in the collections of the Metropolitan Museum of Art, New York; Smithsonian Institution, Washington, D.C.; the Art Institute of Chicago, Illinois; among others.
EXHIBITED WORKS
Nommo, 2019
Mixed media and sound installation (steel metal structure, plaster bust, found wood)
680 × 280 cm
Courtesy the artist and Jack Shainman Gallery.
Commissioned by the 16th Istanbul Biennial.